Exportable / non exportable titles
Create your own database of titles / export documents.
How does it works?
The type of document helps to determine whether a lot can be exported or not, and whether there are additional costs associated with the preparation of documents for the transportation of the lot.

We have compiled a database of export documents for Copart, IAAI and Manheim auctions.

In our service we have collected all main types of titles, which can be purchased at IAAI, Copart, Manheim auctions.

To create the database, we suggest you enter the following information:

Choose the status for each timetable: export, non-export, availability of additional costs, time of document preparation.
Add information about price and logistics.
If you haven't found the required vehicle title in our database, you can do it yourself.

You can update the data at any convenient moment.
Auction
DocType
Export Permit
Price,
USD
Shipping
port
Copart
AB BOS - ACTIVE
Export
0
Copart
AB BOS - NONREPAIRABLE
Export
0
Copart
AB BOS - REBUILT
Export
0
Copart
AB BOS - SALVAGE
Export
0
Copart
AB EXPORT ONLY
Export
0
Copart
AK BILL OF SALE- SALVAGE
0
Copart
AK BILL OF SALE- SALVAGE (P)
0
Copart
AK CERT OF VEH TITLE-RECONSTRU
Export
0
Copart
AK CERTIFICATE OF VEHICLE TITL
Export
0
Copart
AK DLR/DSM/EXP-CT OTHERS-CA AC
Export
0
2270 entries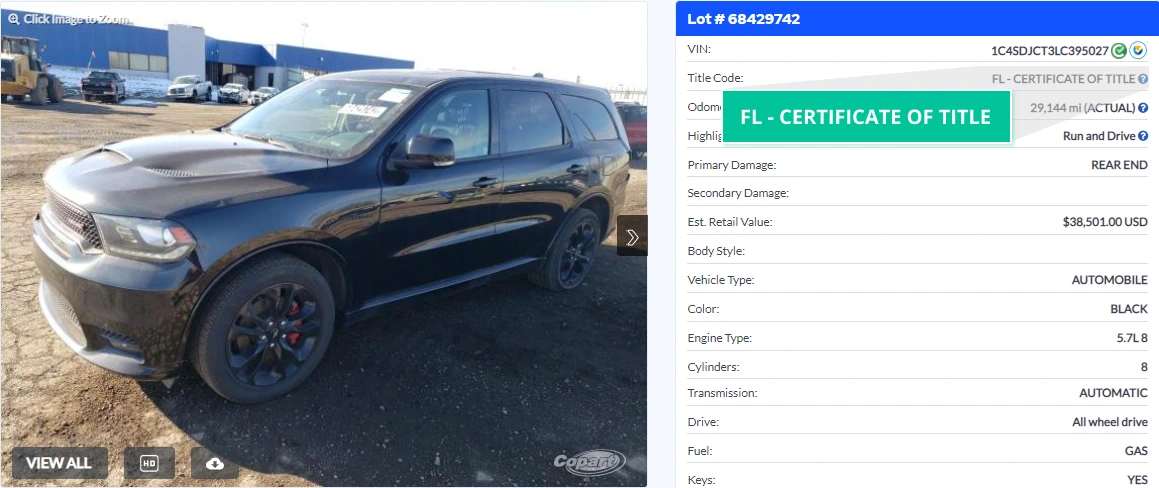 Why do we use it?
Every vehicle for sale in the USA and Canada has a document that includes the most important information about the vehicle: the type of Title. We offer a full list of export documents to help you make your own choices about buying a used car. It is the type of the Title that you should pay attention to first of all when choosing a car. Depending on the type of document and the state in which you purchased the car, the time required to issue a new title depends on whether or not there are any additional costs and terms to prepare the car for export.