What is this?
This is a service that allows you to control user actions on Copart and IAAI auctions. As your company grows, the number of clients increases, and consequently, the number of users on your auction account grows. Every time you grant access to an auction, you hope that the client will responsibly inform you about their auction purchases. However, there are cases when clients forget to do so. By using our service, you will receive all the information about viewed lots and placed bids from all your clients. We will assist you in reducing expenses on 'Relist FEE'.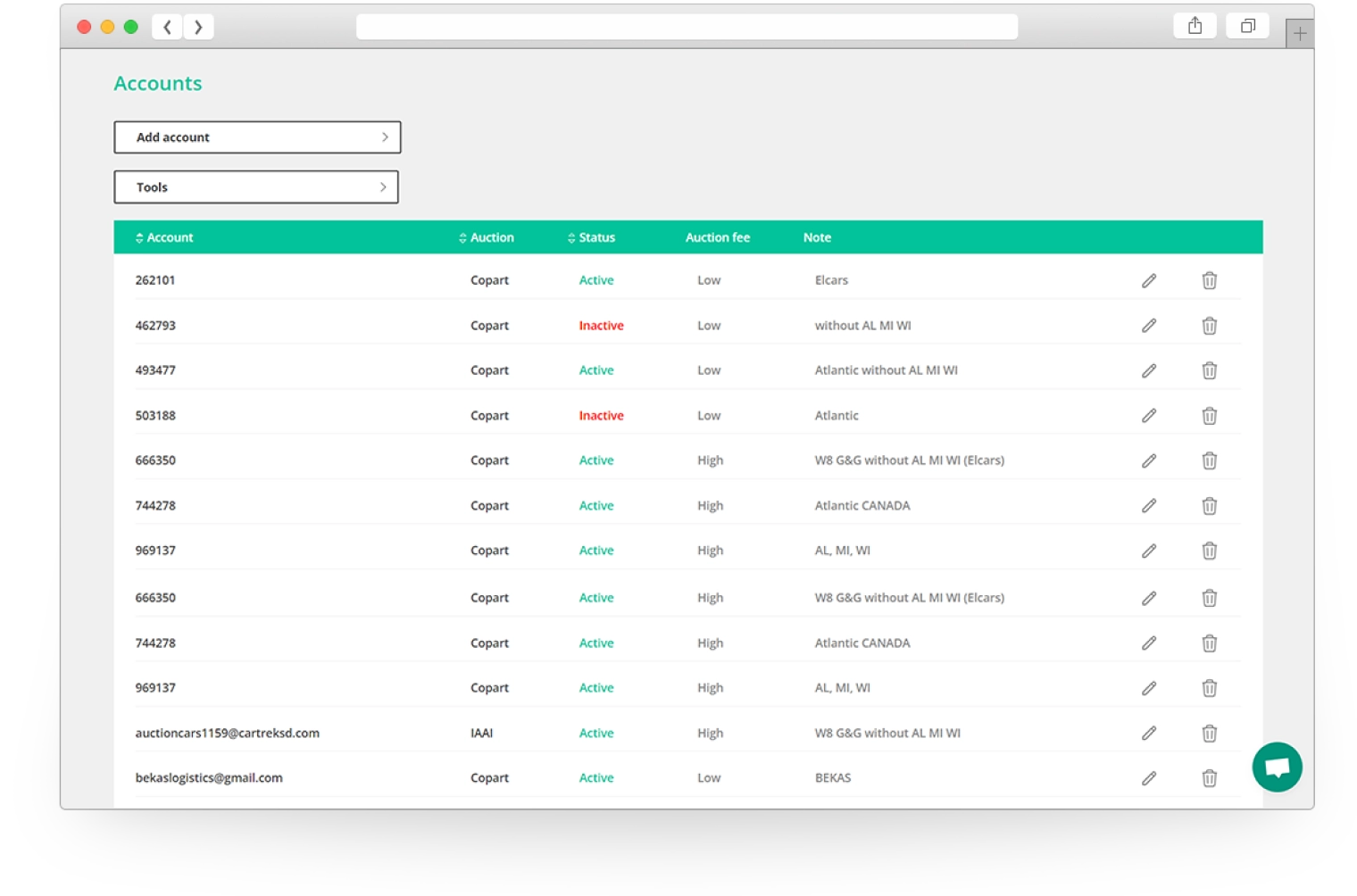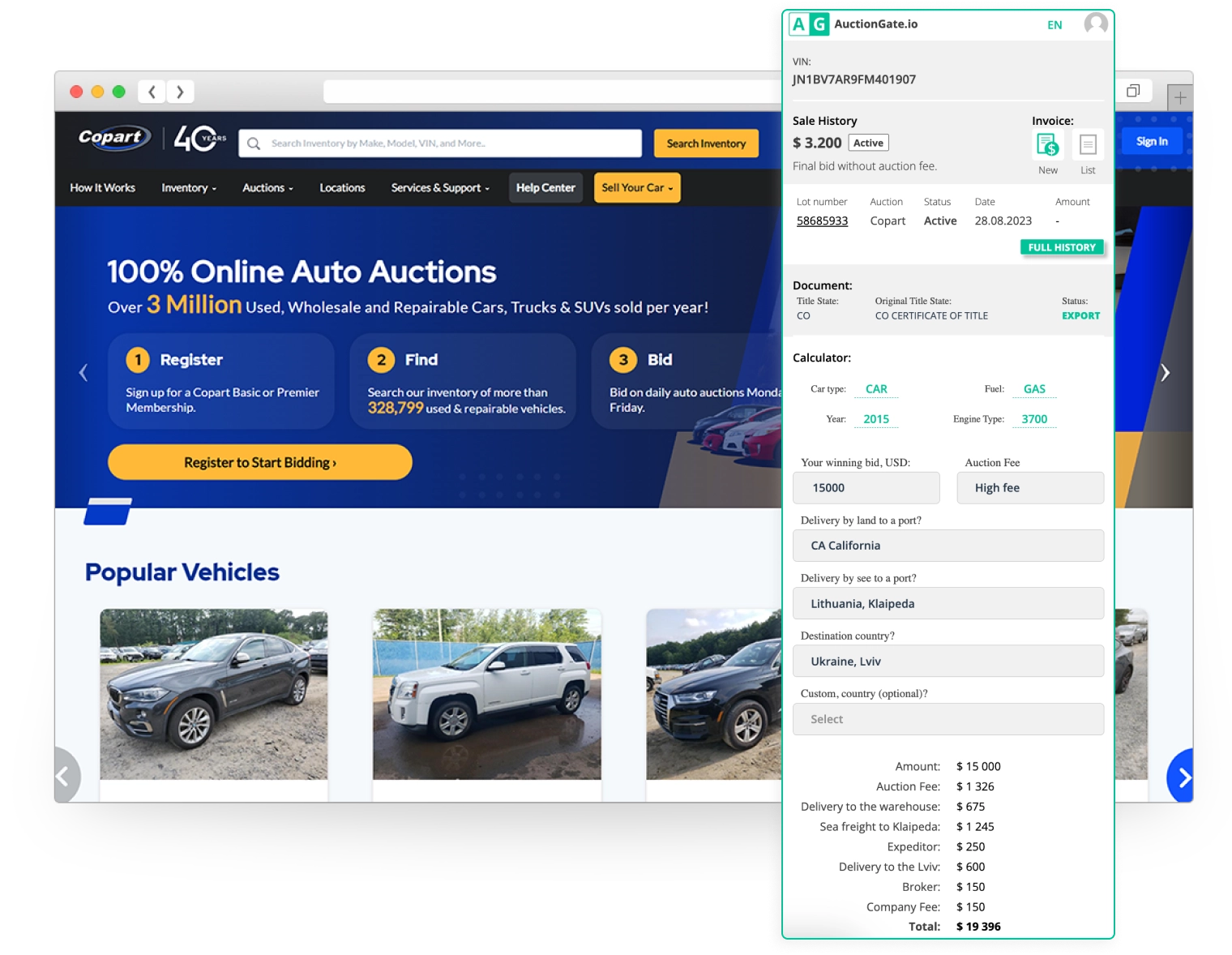 Sign up and get a trial mode
How it works
AuctionGate is incredibly easy to use.To begin using it, you need to register and add your auction accounts, providing your login and password. Then, you should create users to whom you'll grant auction access. Next, you provide your client with a link to install the AuctionGate extension for the Google Chrome browser, along with their login and password. Auction authorization takes place through our extension.
Sign up and get a trial mode
Our advantages
By using our Account Management service, you gain the following advantages:
Reduction in 'Relist FEE' expenses
Managed access to auction accounts
Full history of viewed lots and placed bids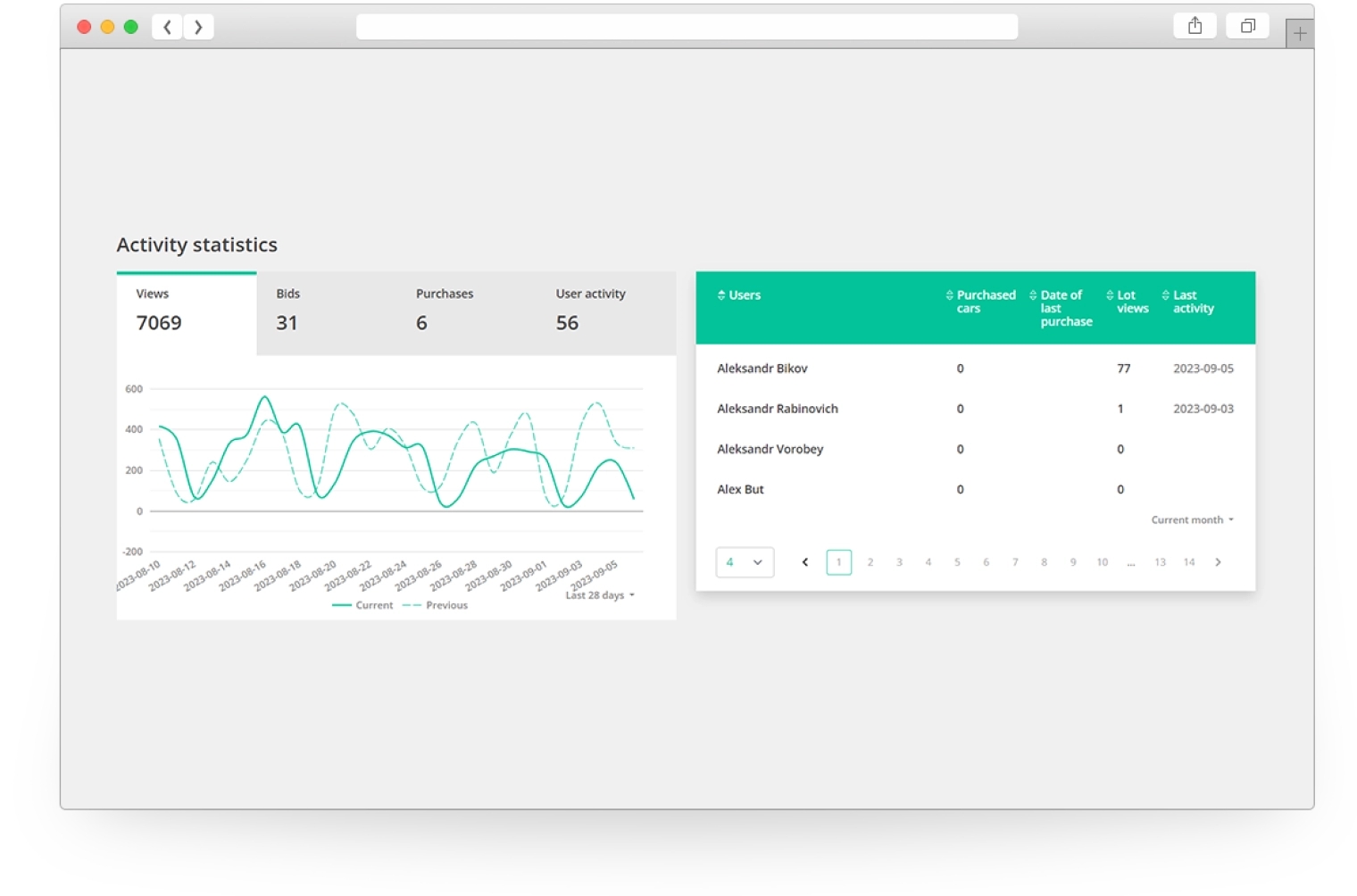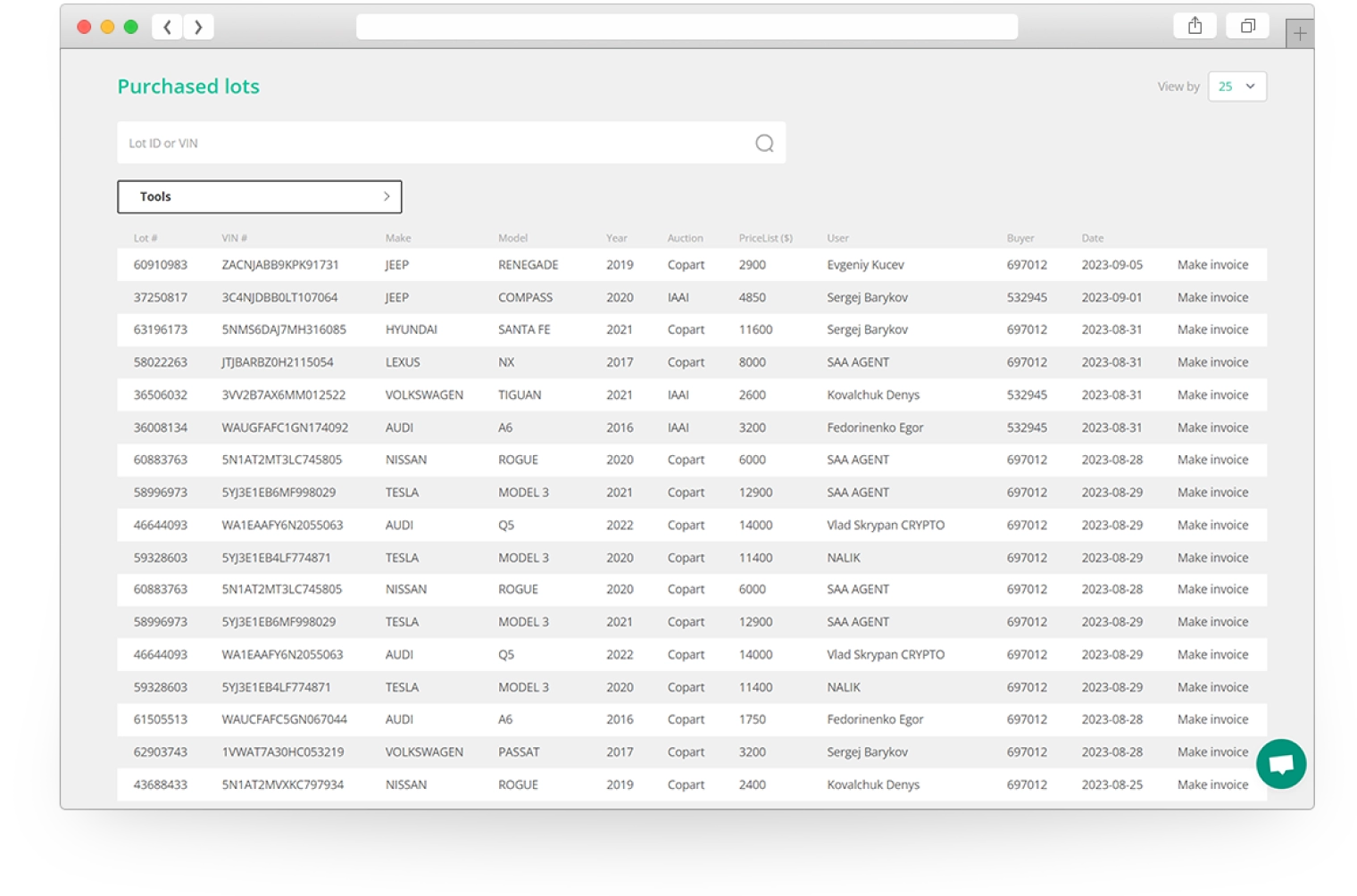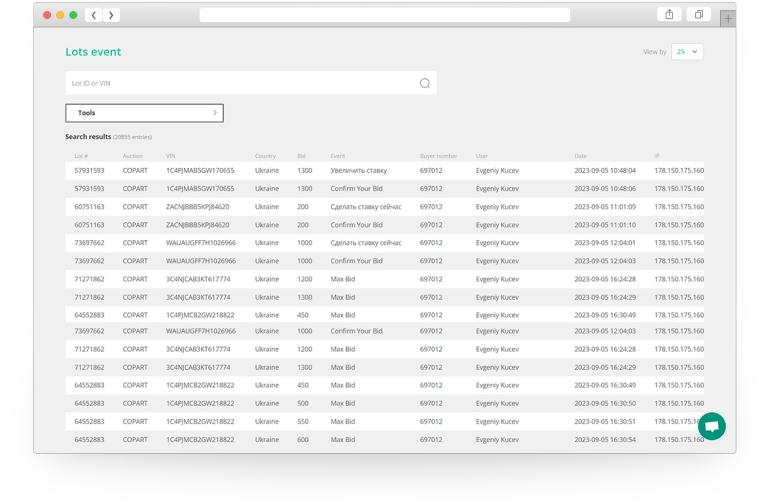 Tariffs
Run
$20
per 1 purchased lot
9 / 9 Tools for auctions
Purchase and delivery cost calculator for lots
Personal price lists for each user
Customs cost calculator
Invoice generator for payment of auction lots
Invoice constructor
Lot sale history
Directory of document types
VIN Decoding
Personal "Watch list" page
1 / 4 Account Management
Creating access to Copart and IAAI
Adding more then 1 auction accounts
Office management
Access management control: owner, supervisor, manager
1 / 4 Betting settings
Bet limit
Limited the number of lot purchases
Placement of PreBids
Placement of Live Bids
2 / 3 Statistic
Viewed lots
Placed Bets
Lots won
9 / 9 Tools for auctions
Purchase and delivery cost calculator for lots
Personal price lists for each user
Customs cost calculator
Invoice generator for payment of auction lots
Invoice constructor
Lot sale history
Directory of document types
VIN Decoding
Personal "Watch list" page
1 / 4 Account Management
Creating access to Copart and IAAI
Adding more then 1 auction accounts
Office management
Access management control: owner, supervisor, manager
1 / 4 Betting settings
Bet limit
Limited the number of lot purchases
Placement of PreBids
Placement of Live Bids
2 / 3 Statistic
Viewed lots
Placed Bets
Lots won
Choose
Run & Drive
$30
per 1 purchased lot
9 / 9 Tools for auctions
Purchase and delivery cost calculator for lots
Personal price lists for each user
Customs cost calculator
Invoice generator for payment of auction lots
Invoice constructor
Lot sale history
Directory of document types
VIN Decoding
Personal "Watch list" page
4 / 4 Account Management
Creating access to Copart and IAAI
Adding more then 1 auction accounts
Office management
Access management control: owner, supervisor, manager
4 / 4 Betting settings
Bet limit
Limited the number of lot purchases
Placement of PreBids
Placement of Live Bids
3 / 3 Statistic
Viewed lots
Placed Bets
Lots won
9 / 9 Tools for auctions
Purchase and delivery cost calculator for lots
Personal price lists for each user
Customs cost calculator
Invoice generator for payment of auction lots
Invoice constructor
Lot sale history
Directory of document types
VIN Decoding
Personal "Watch list" page
4 / 4 Account Management
Creating access to Copart and IAAI
Adding more then 1 auction accounts
Office management
Access management control: owner, supervisor, manager
4 / 4 Betting settings
Bet limit
Limited the number of lot purchases
Placement of PreBids
Placement of Live Bids
3 / 3 Statistic
Viewed lots
Placed Bets
Lots won
Choose