Description
Leverage the power of AuctionGate integration. As a trusted partner of USA auctions, we strive to provide comprehensive solutions to enhance your user/working experience. With our integration to AuctionGate, we offer a range of tools tailored specifically for your business needs.
We can develop custom-branded extensions, such as an auction manager account, as well as a block with built-in information about the history of auctions, shipping costs, the current status of the lot, etc.
This powerful tool allows you to efficiently manage your auctions, track bids, and monitor sales performance all in one place.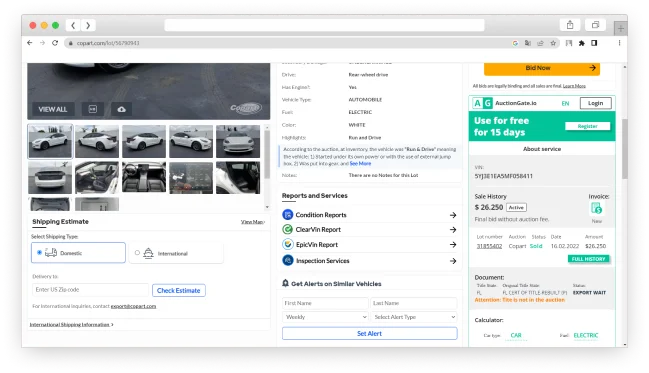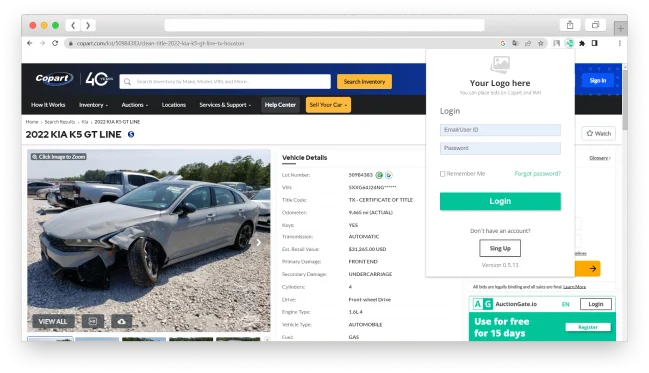 Our capabilities
Embrace the benefits of our integration with AuctionGate and unlock the full potential of your auction business. We can provide you with a custom-branded extension in a short time - up to 30 days.
Customization: The extension can be fully branded and styled to match your company's identity, ensuring a cohesive user experience and reinforcing your brand's presence throughout the auction process.
Streamlined Auction Management: From managing bids to monitoring lot statuses, you gain complete control and streamline your operations.
Enhanced Transparency: Transparency is key in the auction industry. By utilizing our integration, you can provide your customers with a trustworthy experience.
Order Extension development